Satisfy the different needs of your customers it can be complicated. What exactly do they want and why do their deseodo they seem to differ? Your requests may even seem contrary at times: high quality with low prices, new but familiar, more choice but easy to buy. Still, a business should aspire to win their hearts and keep them happy, come what may.
Companies must be able to give customers what they want, when they want, and how they want.
customers like feel like they are in control and they want things to be easier. That's why many of us pay more to order takeout from apps rather than pick up our food ourselves. Customers expect to be captivated by the brands they interact with and therefore place a higher importance on happiness.
Consider this: 56% of customers are willing to pay more for better service to the client. Every business aims to provide customer satisfaction, but that is easier said than done. Why? Because the world has evolved. Companies have evolved and customer expectations too. And as part of this process of evolution, we bring you the new Zoho Desk.
With this new release, we hope to bring happiness to you, your team and your customers on three important fronts, which we consider to be the building blocks of superior customer service.
1) Bring the omnichannel experiences to the next level.
2) Build self-service options for strengthen customer-business relationships.
3) Improve the interface user interface to provide a rich experience for customer service agents.
Read on to find out everything we've been up to.
We are delighted to introduce a new way of interact with your customers in Zoho Desk. The Instant Messaging (IM) platform for Zoho Desk allows customers to communicate with your business through:
Whatsapp,

Telegram,

LINE,

WeChat,

Instagram (coming soon)

Facebook Messenger (coming soon).
Since most of your customers are already using these platforms to communicate, it makes sense to meet them there. We've combined all the tools you already know with our comprehensive instant messaging module, along with some new features designed to maximize productivity.
Zoho Office notifies you of incoming chats in real time so you can easily connect with customers from the interface. While you're there, you can:
conduct a

contact information tracking

information, ticket information, cross-channel conversation history, and attachment details within the customer chat window for immediate context.
access and

attach articles

from the knowledge base directly from the post section, use canned responses for quick resolutions, and add emojis for additional customization.
Participate in multiple chats simultaneously

on all channels without switching tabs.
Assign conversations and

transfer chats to your colleagues

team.
Turn conversations into tickets for easy follow-up to resolution.
Guided Conversations with Zoho Desk 2023
We present Guided Conversations (GC) , which is the result of our product team's commitment to bring you the best self-service options.
As customer service professionals, we know that most questions don't have simple answers. They often require follow-up questions and a lot of context before a solution emerges. That's where GC steps in. Is a proactive self-service platform, low-code, that simplifies the path to answers to common customer questions. A GC flow systematically leads customers to the best possible solutions. You may create GC with specific functionalities for your audience. Plus, at any time during the conversation, you can direct your customers to human interaction and then switch back, if necessary.
Guided conversations can be used during a variety of situations, such as reservations, placing orders, requesting a return, or collecting information for official purposes. The possibilities are endless.
Improved experience in Zoho Desk
You may have already noticed the option "Try new version" in Zoho Desk and you've even tried the revamped user interface (UI). This is part of our effort to make Zoho Desk more logical and visually appealing to give you the best work experience, because we know that a complicated help desk can make eight hours feel like 20.
So what changed?
Cleaner UI, more context, and easier navigation
We believe that well-designed software needs few or no instructions. With this in mind, we have created a more attractive user interface, cohesive and understandable. It does a better job of presenting data, provides more context, and is easier to navigate.

The importance of customer service teams having quick access to relevant information. The user interface has been optimized and made it easier to navigate through different screens to locate the correct information. Some screens have also been revamped to give you a holistic picture of your customers and tickets in a single interface. See our new look at:
Last view of the headquarters with a refined data layout and a fresh overall look.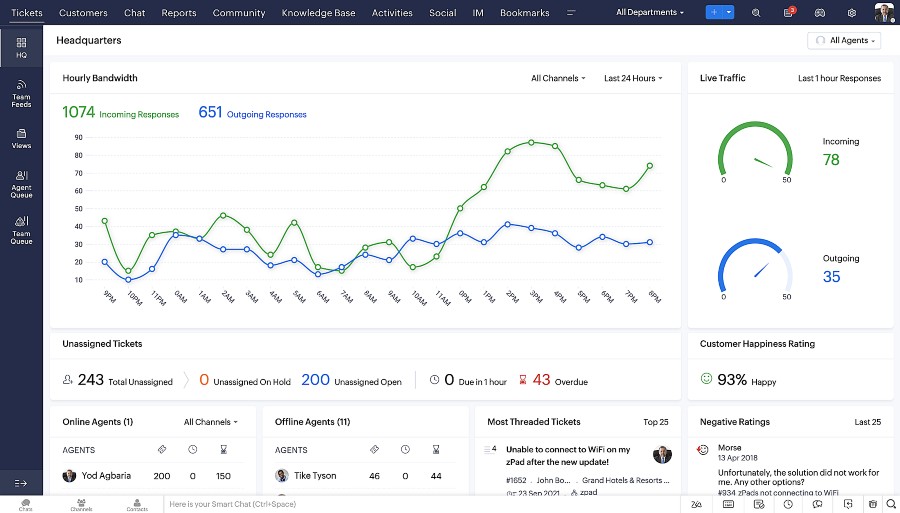 Detailed ticket view with color-coded threads for easy navigation between conversations and comments.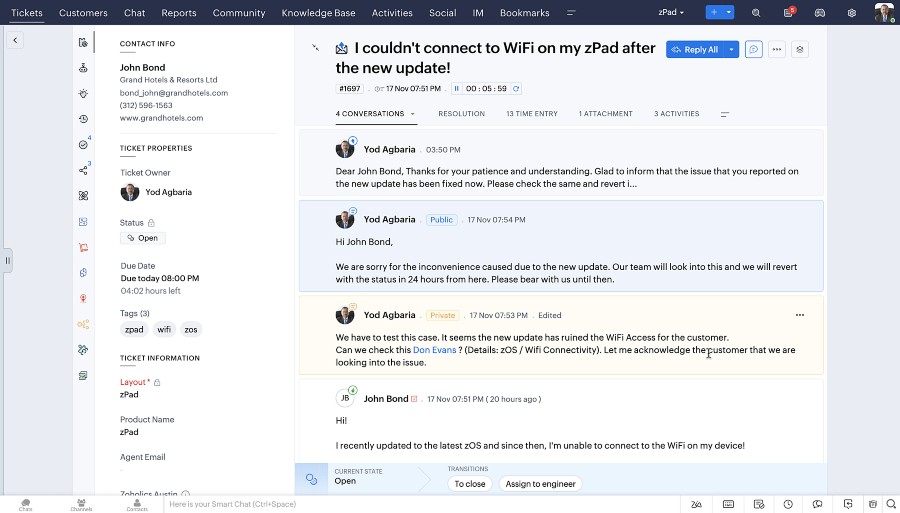 Detailed contact view with quick add buttons, a Pending Tickets section, and a Ticket Insights overview.
Ticket Queue View with dropdown status options, so you can provide quick updates without opening the Ticket Details View.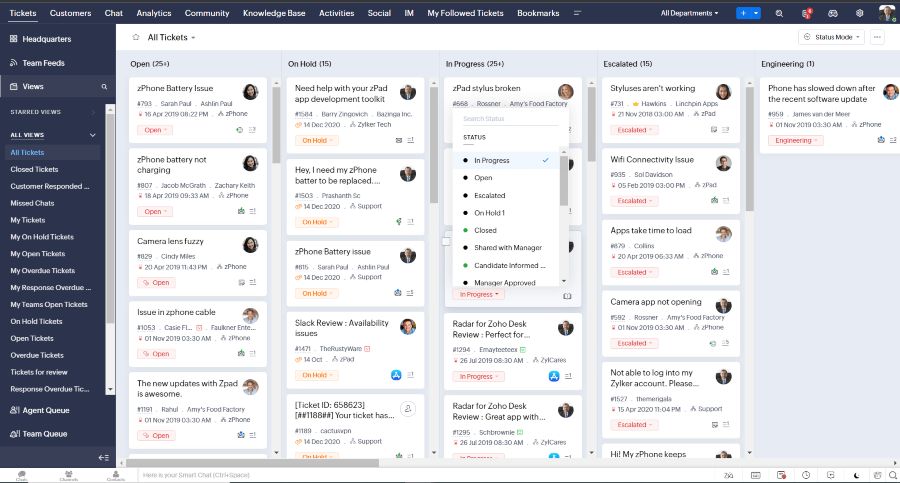 A new mark as read/unread option in the Ticket List View and a consolidated Work Modes dropdown implemented throughout the Tickets Module.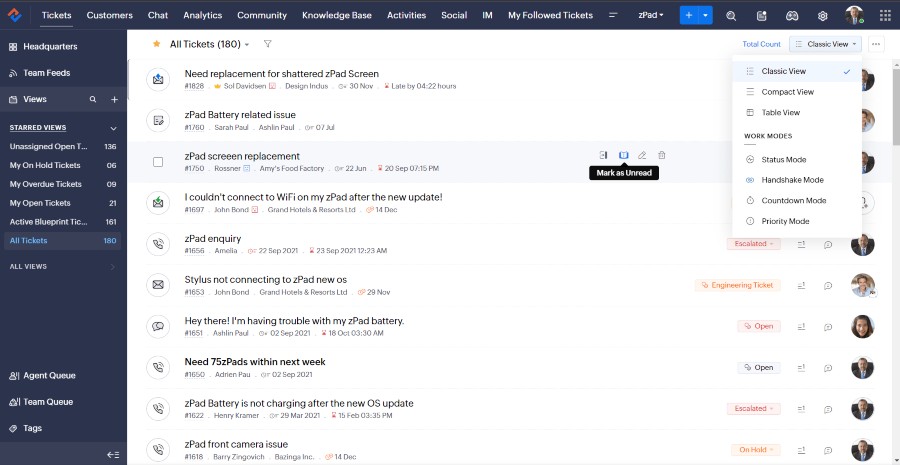 New user customization options
Personalization has become such a common part of daily life that we tend to expect it in most interactions with our products.
En Zoho Office You can now customize designs, fields, roles, templates and your help center. Now, you can also customize the look of your portal so you feel more connected to your help desk. Here's what's new:
Dark mode/Night mode

for a comfortable viewing and reading experience in low light conditions.

New topics

to visualize: Desktop in your favorite color, or in colors that represent your brand.

display layouts

they allow you to choose how your content is presented to you.

Shows font types and sizes

so that the text on your screen matches your preferences exactly.

Default editor font types and sizes

for your email descriptions and response publishers.

Customize the reply button

to select the response actions you want the button to display by default.
It's always been our mission to make our products easy for all users to access, and with our new accessibility controls, we're getting close. We've added multiple controls to support your vision, physical and motor, and learning needs.
Screen Reader converts the content (text, buttons, images, and links) on your screen into

voice or braille

.
Highlight critical information that displays key information such as ticket ID, ticket owner, and

contact details in a bold color

.
Underline links

increases the visibility of clickable links.
Emphasize Focus Area

, adds a border around your focus area to indicate the extent and clickability.
Animation controls optimize animations and transitions in your help desk.
the reading mask

eliminate distractions

by masking the text that you are not currently reading.
The zoom level allows you to zoom in and out until the page is easy to see.
Keyboard Focus Navigation helps you navigate between screens, switch tabs, and perform tasks using only keyboard keys.
What do you think about everything that this new Zoho Desk 2023?
Register here for a Free trial .