COMMITMENT PROFESSIONALISM QUALITY
I want to hire Seo for my website
Contact our equipment de consultants y analysts SEO to learn more about how we can enhance the positioning of your website. Our team has experts in optimization SEO On Page, writing of optimized content, strategies of link Building to give your website a reputation and web traffic analysts that will help you to know the state of the traffic to make decisions.
GET MORE CUSTOMERS
El SEO increase your number of users and potential customers
Un plan SEO is a study and planning to elaborate a continuous work with the objective of improve online positioning of a website. A plan of SEO is a roadmap that helps you organize and direct your efforts SEO. It can be as simple as creating a list of target keywords and mapping out how you are going to acquire high-quality website links. Or it can be a more complex document that includes detailed information about your website architecture, content, and link building strategy.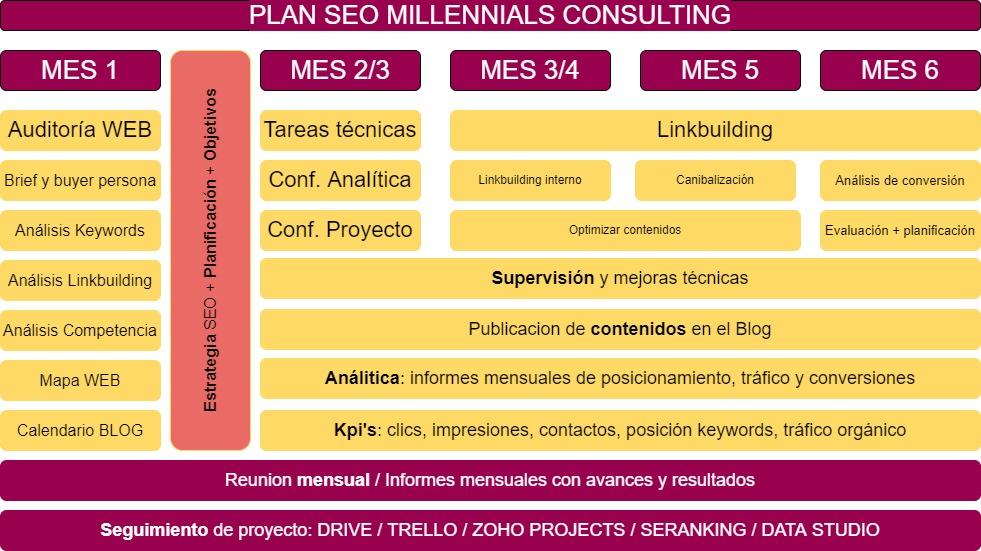 Through this tour, actions to improve the SEO of our website. Throughout the development of the project, all the initial objectives are reviewed to check the evolution of the plan.
Basic plan
Ideal for small websites that want to position themselves at the provincial or local level
Content writing and curation Seo

Configuration of analytical tools

Monthly monitoring reports
Premium Plan
Ideal for websites that want to compete at a national level and become leaders in their sector
Content writing and curation SEO

Configuration of analytical tools

Monthly monitoring reports
Pro plan
Ideal for large projects with very powerful websites and specific needs
Variable hours/month of work

Content writing and curation Seo

Configuration of analytical tools

Monthly monitoring reports
Perfect, you are in the right place,
but....
Our goal is not to sell you SEO for your website, our goal is that before that we explain…
【What you have to take into account BEFORE hiring SEO for your company】
AND ONLY, once you have evaluated whether you are interested or not, hold a meeting with you and see your needs as a company. That is why before continuing to see rates and prices of our services SEO you have to know the importance of hiring an audit SEO in advance to prevent your project from becoming a real botch. We leave you the link here. That is why in the plans SEO that we offer we include an internal audit before working on your website If you have already read the previous information, we continue with the advantages and disadvantages of hiring SEO for your website or E-commerce.
Advantages of using SEO on your website
1) Once your website is positioned, it is much easier to expand and capture the entire market in your sector.
2) If your website has, for example, 5000 visits per month, it means that the following month you will have approximately the same visits and your website may be maintained for a long time with that same figure without the need to pay to maintain your positioning.
3) El SEO shows the problems your website is going through. If you only dedicate yourself to promoting your website through Google Adwords or Facebook or Instagram ADS, you will not realize that there are processes on your website that are not entirely effective and many customers are lost because your website is not correctly oriented. With the different analytical tools and heat maps, you can detect those micro errors that your website has, which have an important influence, creating a bridge from failure to success in your sales.
Disadvantages of using SEO on your website
Not everything is beautiful in the world SEOLike anything, there are pros and cons. The main disadvantage is that it is a medium-long term oriented process, seeing results in a period of 6 months and notable results in 1 year of hiring. Depending on how good or bad your web page is initially, results may be presented sooner or later. Millennials Consulting It is a serious company that wants to give results to 100% of its clients, that is why we contract with our clients a minimum of 1 year of work SEO. Why is it necessary to work SEO on my website for at least one year?
There will be sectors in which the competition gives us a good initial advantage, and others in which the advantage will not be very high and we can present results much sooner than expected.
How good or bad is our website and that of the competition will be seen in the AUDIT SEO What will we do on your website? Along with the objectives and action plan to overcome the competition.
Tools SEO with whom we work
【
Work SEO is the same in each Plan, the difference is the hours spent on your website
】
The more hours our experts dedicate to working on your website, the more results we will obtain to dominate your sector and be first in the different searches.
How are we different from other agencies? SEO?
Most agencies usually set fixed working conditions such as 2 posts per month and optimization of x urls. But work like this It is a very big mistake since some websites will have totally different needs from others.
Work SEO it cannot be done in all projects equally.
Depending on how your website is, some parts will have to work more than others. That is why in our plans we include all processes a professional SEO must work on your website.
The experts will examine your website and determine which parts need more work and which parts less.
SOME COMPANIES THAT TRUST US
Start optimizing and growing your business today!
WHY TRUST IN MILLENNIALS CONSULTING?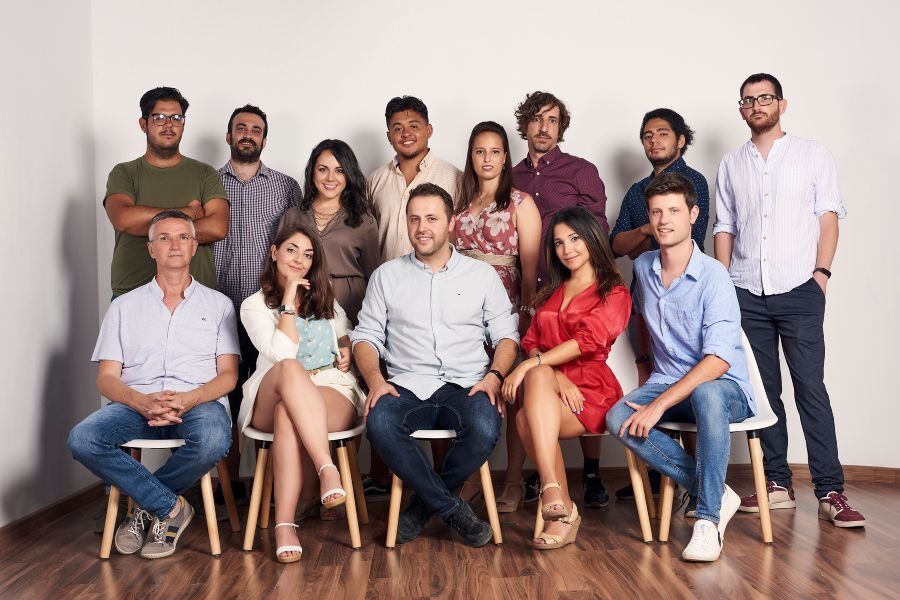 COMPANIES have trusted us and digitized their business in MC
PROJECTS have been contracted by companies in the last 2 years.
of companies REPEAT working with Millennials Consulting in new projects.
Get to know our network of Partners

EverythingForYourGarden
9. October, 2023.
Julián has given us great help to understand the positioning SEO that we have to work through the digital Kit, the entire team is serious and responsible, highly recommended.
Sebas Baldo
1. October, 2023.
A pleasure to work with Irene on the books project with the collaboration of Javi in ​​IT and Alejandro for publishing the website with our server. We will continue working with them from Alicante,,🥰🥰
ASIMA Association of Industrialists of Mallorca
25. September, 2023.
After obtaining the digital kit, we did not hesitate to work with this company with which we have been working for years. Specifically, we have been very happy and congratulations for the work done by Eliana Pérez in the Zoho Social part. Thank you.
CRT Architecture
19. September, 2023.
They recommended this company to me, when I got the digital kit. The service has been fast, simple and very effective. Eliana analyzed my type of company and the values ​​of my architecture studio, to show it in the best way in social networks and advertising. A great job.
Javier Panizo
7. July, 2023.
Professionals, those who give you confidence when they speak because you can tell they know what they are talking about. And on top of that, facilitating at all times the development of the project in terms of logistics (schedules and days of meetings, etc...) The icing on the cake: on top of that, they do it with a smile. Thanks for everything!
Oscar Rojas
5. July, 2023.
A good Partner Millennials and in the face of difficulties they have provided an agile and effective solution, specifically with Natalia she has been an excellent support and with an efficient vision of the project.
English Today SL
3. July, 2023.
We are very happy with the result. It is true that since we made the agreement and signed, a few months of waiting have passed, but once the project started it has been very fast. It took a bit to focus on what was a priority for us, but after a few meetings everything went well. Good experience and we will continue working with them.
Sergio Jimenez Rodriguez
22. June, 2023.
Totally recommended
Basilica Street, 15-17 1st Left. 28020
C. Mª Cristina 74, ground floor, 03660
Gran Via Asima 2 Floor 9 07009
C. Independence 329, 45100
Local Boston Street No. 2, 38650
Consultant, Implementer Marketing Specialist
Consultant, ADS Specialist Implementer
Consultant, Implanter Specialist in Design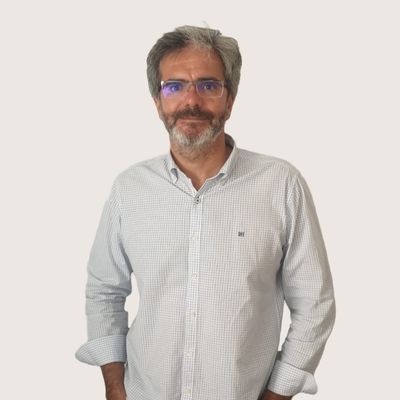 Legal and Grants Specialist