The platforms that we are going to mention have a good interface system, campaign functionalities and general prices that are very competitive with each other. Today, you will discover what are the differences between Zoho CRM and Active Campaign and you can decide between one or the other.
The first thing to highlight among their differences is related to their functionalities. On the one hand, we have Zoho CRM which is presented as an integral solution for a very good customer relationship. It also has critical tools for sales and marketing processes.
On the other side, there is Active Campaign, which is considered a very broad platform with good tools and an intelligent system for use in marketing and sales.
As we have seen, both seem very similar in terms of functionality, but there are some clear differences between Zoho CRM and Active Campaign, which we can summarize as follows.
Main differences between Zoho CRM and Active Campaign
Prices:

Zoho CRM starts at $12/month per user.
AC starts at just $9/mo.

Productivity:

With Zoho, you seek greater performance in closing deals.
At AC they focus on improving their connections and number of engagements with customers through intelligence and custom configuration messages.

Communication:

In AC, the means of communication by SMS messaging or email is combined.
In Zoho the interaction is social and through email channels.

Features:

The first marketing option at Zoho is to pursue marketing solutions. CRM.
In AC, they focus on automation type software with good ability to CRM.

Bells:

Campaign split testing is present in Active Campaign.
In Zoho no form of trial is allowed.

Automation:

Zoho CRM it is shown as an automated workflow system.
In Active Campaign you can see a graphical map automation framework.
Zoho CRM vs Active Campaign
With all the Zoho differences CRM and Action Campaigns Sure, you have to choose. But before doing so, consider that each of these tools can be efficient depending on the characteristics of your company.
The tools that each of them have are potentially useful, and even more so in the area of ​​marketing and customer management. Remember that the process CRM it starts with customer managements, where both are excellent. Productivity features and price will depend on your taste or need
Other aspects that differentiate Zoho CRM by Active Campaign
Finally, we can make a brief description of what Zoho is. CRM specifically and why it clearly differs from Active Campaign. First of all, we have that Zoho enables a very characteristic automation system for typical business operations.
Tracking functions work seamlessly in the background and can generate sales with your reports relevant. For those users who decide Zoho CRM, they must consider the holistic approach of the system and integrate with the corresponding applications of the same.
And if we talk about accounting, Zoho CRM can be integrated with different applications taking accounting to the next level.
What do you think about differences between Zoho CRM and Active Campaign? In Millennials Consulting We are a consultancy specialized in CRM y SEO. We are a premium Zoho partner, because we can help you with whatever you need.
Do not hesitate to contact us without any commitment.
specialized experts
Are you interested in Zoho? CRM? We have a specialized expert team that will help you in your projects.
Job Title (Occupation)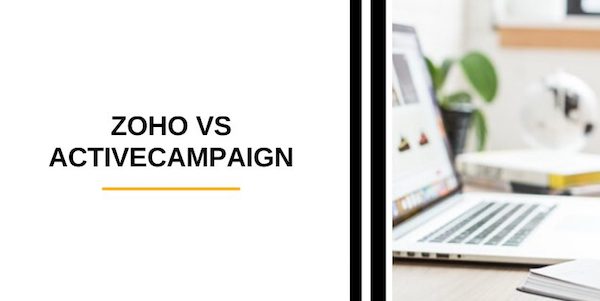 Article name
Differences between Zoho CRM and Active Campaign
Description
Would you like to know what are the differences between Zoho CRM and Active Campaign? Here we tell you everything you need to know.
Author
Posted by
Millennials Consulting SL
Logo