What are the best agencies SEO of Spain in 2023? It is already well known by most people that digital marketing has taken on a very large weight in relation to company strategies. There are many, and more than will join, the companies that have opted for the digitalization. But, in addition to this, there is a common element in most of them: the SEO.
El SEO has become one of the pillars of the digitization strategies. Expert consultants, technicians and other experts in this field compete to achieve the best organic positioning of the different companies.
La European Business School has decided to carry out a study to verify which are the 50 Best Agencies SEO in Spain 2023, based on data extracted from the SEMrush tool.
We are proud to say that Millennials Consulting is in this Top50. All thanks to the great work of our team.
Criteria for choosing the Best Agencies SEO from Spain 2023
Attempts have been made to continue what was done in previous years. Like last year, the main criteria to be able to be part of this list was appear among the first 100 positions of the keyword "agency SEO". Here are some other criteria that have been taken into account:
Search position for the keyword "agency SEO".
Amount of positioned keywords.
Amount of backlinks.
Monthly web traffic.
Score in the domain authority.
The points for each criterion range from 1 to 50, with 1 being the best score and 50 the worst. In conclusion, the lower the total sum of the points, the better the classification will be obtained.
specialized experts
Are you interested? We have a specialized expert team that will help you in your projects.
List of Best Agencies SEO 2023
We are Millennials Consulting and we know what companies want. We live and breathe latest trends, technology and communication methods to ensure that our customers always have access to the best possible service. Our team is made up of talented people in various departments, all united by a common goal: help businesses succeed. Whether it's web design, social media marketing or search engine optimization, we're here to help your business grow!
Job Title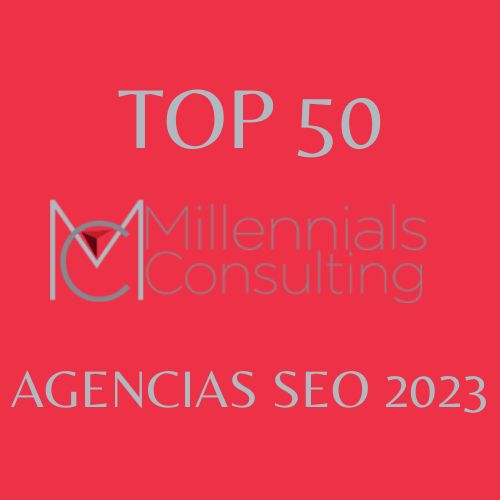 Article name
MILLENNIALS CONSULTING AMONG THE 50 BEST AGENCIES SEO FROM SPAIN
Description
Millennials Consulting has entered the ranking of the Best Agencies SEO of Spain 2023 generated by the European Business School. Enter here and find information of interest about this.
Author
Posted by
Millennials Consulting SL
Logo